Ubiquiti Networks UAP-AC-M-PRO-US UniFi AC Mesh Wide-Area Outdoor Dual-Band Access Point
Weight: 633 g (1.40 lb)
Ports: 2 x 10/100/1000 Mb/s Gigabit Ethernet (RJ45)
Item Dimensions: 343.2 x 181.2 x 60.2 mm (13.51 x 7.13 x 2.37″)
Model Number: UAP-AC-M-PRO-US
Simultaneous, dual-band, 3×3 MIMO technology, 802.11AC dual-band access point, capable of speeds of up to 1750 Mbps.
Product Overview
With the outdoor UAP-AC-M-PRO-US UniFi AC Mesh Wide-Area Dual-Band Access Point from Ubiquiti Networks users benefit from a wide coverage area reaching up to 183m along with enhanced data transfer rates of up to 1750 Mbps on the 5 GHz frequency. These enhanced data rates and coverage capabilities are supported by a 3×3 MIMO internal antenna configuration supporting multiple data paths for a more efficient end-user network connection. Installation of the UAP-AC-M-PRO-US is simple as it comes 802.3af PoE compliant and includes a pole mounting kit. Once installed users can take advantage of 802.11ac Wi-Fi access with speeds of up to 1300 Mb/s in the 5 GHz radio band, and up to 450 Mb/s in the 2.4 GHz radio band. The Wi-Fi system includes UniFi Controller software that can be installed on a PC, Mac, or Linux machine within the network, and is easily accessible through a standard Web browser. Using the UniFi Controller software, an Enterprise Wi-Fi network can be quickly configured and administered, without any special training.
Versatile
Ubiquiti Networks UAP-AC-M-PRO-US comes in Weather-Resistant Form Factor, The enclosure of the UniFi AC Mesh Pro AP is designed to withstand the elements, making it ideal for outdoor deployment. Unique provisioning LED provides administrator location tracking and alerts for each device. Powerful Coverage, Built-in dual-band Omni-directional antennas deliver expanded range coverage outdoors. Mounting Flexibility, The UniFi AC Mesh Pro AP can be mounted on a wall or pole. (All accessories are included.) Dual Gigabit Ethernet Ports. The primary port is for data and PoE; the secondary port is for bridging. You can power the UniFi AC Mesh Pro AP with an 802.3af compatible switch, UniFi PoE Switch, or a PoE adapter. A Gigabit PoE adapter is included.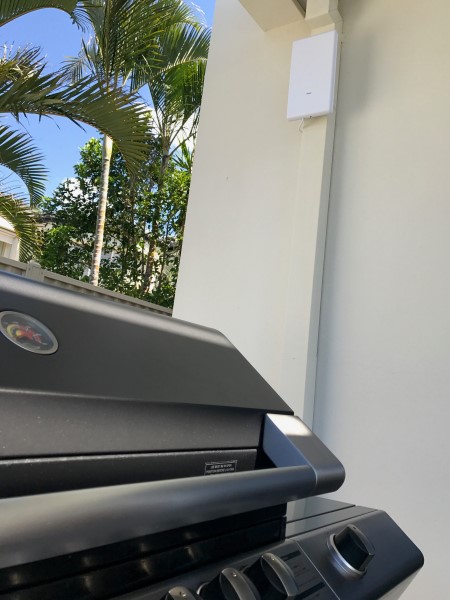 Wireless Uplink
Wireless Uplink functionality enables wireless connectivity between APs for extended range. One wired UniFi AP uplink supports up to four wireless downlinks on a single operating band, allowing wireless adoption of devices in their default state and real-time changes to network topology. For devices that support Plug & Play Mesh, this functionality is extended to allow multi-hop wireless uplink – so wirelessly uplinked APs can support uplink to other wirelessly uplinked APs.


Guest Portal/Hotspot Support
Easy customization options for Guest Portals include authentication, Hotspot setup, and the ability to use your own external portal server. Use UniFi's rate limiting for your Guest Portal/Hotspot package offerings. Apply different bandwidth rates (download/upload), limit total data usage, and limit the duration of use.
All UniFi APs include Hotspot functionality:
• Built-in support for billing integration using major credit cards.
• Built-in support for voucher-based authentication.
• Built-in Hotspot Manager for voucher creation, guest management, and payment refund.
• Full customization and branding of Hotspot portal pages.
Multi-Site Management
A single cloud-based UniFi Controller can manage multiple sites: multiple, distributed deployments and multi-tenancy for managed service providers.